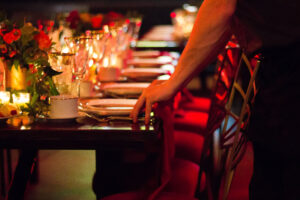 Welcome to our careers page! We're glad you stopped by.
Currently, we are seeking:
Sales/Event Coordinator
About Us
Foodz Catering is a vibrant growing company with a reputation for amazing food and innovative presentations. We have been in Seattle for over 20 years and pride ourselves on a fun and family workplace atmosphere. We are a team and it takes all of us to be successful. We care about each other and we care about our clients too! We want to do what it takes to win the bid and then we want to earn repeat business by knocking it out of the park. If you are a 1000% person and ALL IN then I want to talk to you!
Position – Sales & Event Coordination
Sales
This person responds to incoming inquiries to be used as a basis to create a pipeline of business. They will track and follow up with clients in a timely and efficient manner. They write complete, comprehensive and cohesive proposals using Total Party Planner Software. They will also be responsible for generating new business as well as developing strong relationships with our existing clients. They will be responsible for achieving individual revenue goals as well as participating in departmental revenue goals. This position is a key component in attending and driving marketing events to increase awareness within the community.
Event Coordination
In addition to coordinating all personal sales you would be responsible for the life cycle of an event post contract for one of the senior sales associates.
The intent of this position is to start as part sale and part coordination and move into full time sales
Requirements
Experience: Two to four years of Catering Experience

Catering Sales experience preferred

Sales experience preferred

Certificates & Licenses: Proof of valid Driver's License and favorable driving record; Food Handlers Card

Ability to work extended hours including occasional nights and weekends.
Qualifications
Excellent customer service skills on the phone and in person

The capacity to achieve superior results working independently and as a member of a team in high-pressure situations

Ability to understand, explain, and enforce policies to on-site staff, other departments and the general public in a clear and confident manner

Successfully demonstrated ability to work well under pressure and meet deadlines with professionalism

Excellent organizational and problem-solving skills

Proficiency in, and experience working with: Microsoft Office, particularly Word, Excel, PowerPoint, and Gmail
Additional Responsibilities and Job Description will be given to qualified applicants
Location
Seattle, WA (Currently Sodo but moving to Georgetown in 2020)
Compensation
Base Salary plus Commission
Benefits Offered 
Paid time off

Paid Holidays

Health insurance

Employee discounts
How to apply
Please send a cover letter, resume, and a list of references to shelby@foodzcatering.com
Please note references are REQUIRED when applying for this position.
NO PHONE CALLS PLEASE.
Foodz is an equal opportunity/affirmative action employer, dedicated to a policy of non-discrimination in employment on any basis including race, color, age, sex, religion, national origin, disability, veteran's status, sexual orientation, or gender identity/expression.
Foodz Catering is always looking for hardworking staff to assist with our events. Have experience in hospitality?
Serving food? Cooking food?
Send us a copy of your resume and we'll keep it on file.