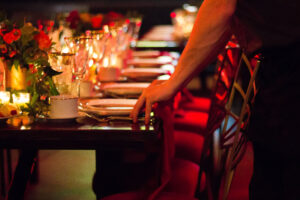 We are currently looking to fill these positions:
Catering Operations: Facility/Warehouse Person
Approximately 30 hours per week + event hours if desired
We are looking for a motivated, positive, hard working team member that is keen on organization, critical thinking and foresight. Main responsibilities revolve around pulling, packing and organizing items needed for off-site catering events. You would also be responsible for processing and putting away all items that return from events including but not limited to decor, alcohol, food disposal, equipment, and service ware. This position also includes laundry, light facility maintenance, as well as, maintaining a clean and orderly warehouse.  
Other duties include but are not limited to:
Organizing and taking inventory of non-perishable items/products at time of delivery

Maintaining all service kits, tool boxes and bar kits

Loading equipment, alcohol, food, and other items for events

Assist with departures of events

Unloading and washing totes, cambros, and ice chests after each event and as needed

Washing, drying, hanging of all aprons, uniforms and towels

Removing trash and recycling that has returned from events and trash from the warehouse

Run general errands

If needed, running items to events in progress

Cleaning out vehicle in entirety after events and checking fuel levels

Pulling, loading and sorting beverages including alcohol

Maintaining quality standards and company protocol

Being accountable and professional
Requirements:
Must be able to lift 50 lbs regularly.
Must have a valid food handlers permit
This job requires a clean, valid WA drivers license
Compensation: $16/hr +  based on experience
Email resume and cover letter to: lydia@foodzcatering.com
Don't see the right position for you? Send us your resume anyway and we'll keep it on file.
We're always looking to hire amazing people!