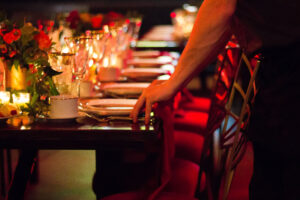 Welcome to our careers page! We're glad you stopped by.
Currently, we are seeking:
Office/Marketing Assistant
Foodz Catering – Who Are We?
We are a full service catering and events company based in Seattle, WA. We are known throughout the Puget Sound Area for our creativity and for our high flavor profiles. We pride ourselves in delivering a powerful and artistic experience for clients and their guests, characterized by flavorful tastes and visual appeal, balanced by thoughtful, personalized touches. Our team consists of highly knowledgeable experts in event design and production. We seek to learn always, perfect our processes, deliver on the details, and cultivate a sense of familial conviviality in the workplace.
Position Overview
Foodz Catering is seeking a full-time Office Assistant/Marketing Assistant.
We are currently seeking an organized professional and creative person to join our team and help us with marketing events and office duties. An ideal candidate will possess a communications or marketing degree. Efficient in Abode Creative Suite (InDesign, Photoshop, and Illustrator).
The marketing duties cover items such as updating all the websites and posting and analyzing social media. As well as creating e-newsletters, flyers, and posters and ads for magazines and brochures. It also encompasses creating labels, tags and other craft items for events and giveaways. This person's duties could be called "All things Pinterest worthy."
The basic office administration duties include preparing event binders with information vital to each event, filing, and answering phones, processing payments, etc. Please apply if you have a great sense of style, are creative, and enjoy both graphic design and creative writing (blogging and award submissions).
Adobe Creative Suite: one year (preferred)
Please email a copy of your resume to info@foodzcatering.com
Foodz Catering is always looking for hardworking staff to assist with our events. Have experience in hospitality? Serving food? Cooking food?
Send us a copy of your resume and we'll keep it on file.