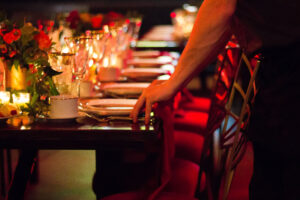 Welcome to our careers page! We're glad you stopped by.
Currently, we are seeking:
Event Service Lead
Foodz Catering – Who Are We?
We are a full service catering and events company based in Seattle, WA. We are known throughout the Puget Sound Area for our creativity and for our high flavor profiles. We pride ourselves in delivering a powerful and artistic experience for clients and their guests, characterized by flavorful tastes and visual appeal, balanced by thoughtful, personalized touches. Our team consists of highly knowledgeable experts in event design and production. We seek to learn always, perfect our processes, deliver on the details, and cultivate a sense of familial conviviality in the workplace.
Position Overview
Foodz Catering is seeking a lead for events.This job role includes managing the execution of any given event from start to finish. This is a front-line client facing role that reports to the Event Fulfillment Manager. This person is a team leader who is the primary point of contact for clients and Foodz Staff during event load in, set up, execution, and tear down.
Essential Duties of an Event Lead
Managing onsite Foodz staff, including chefs, servers, bartenders, and temporary support staff with direction, feedback and training.

Reads all pre-event materials, collaborates with event coordinators to develop a full understanding of event details and service needs.

Ensures a timely drive away from the shop, and drives the van to and from offsite events.

Manages relationships with venue staff through onsite communication and collaboration.

Acts as the primary onsite contact for clients and staff.  Maintains open lines of communication with clients throughout the event, and adjusts execution as necessary based on client feedback.

Creates and executes an onsite service plan, including making adjustments as necessary and  mitigating roadblocks.

Proactively responds to any emerging client needs or onsite problems with a can do attitude.

Provides on the spot training and development opportunities for staff.

Completing post event reports with office staff and providing timesheets.
Qualifications
2+ years in food and beverage/hospitality

Ability to interpret BEOs (Banquet Event Orders)

Excellent Problem Solver

Possess exceptional leadership skills

Be able to maintain a professional appearance and remain cool under pressure

Ability to carry out oral and written instructions

Must have a valid driver's license

Must be at least 21 years of age

Must have a current Food Handler's Permit

Current Class 12 Permit desirable
Please email resume to karen@foodzcatering.com or call the office 206.297.9634
Foodz Catering is always looking for hardworking staff to assist with our events. Have experience in hospitality? Serving food? Cooking food?
Send us a copy of your resume and we'll keep it on file.